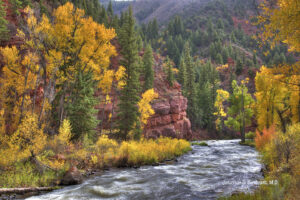 The mission of Tom's Door is to provide emergency assistance in the Roaring Fork Valley area, from Aspen to Parachute, to those in need and who have the potential to improve their quality of life.
Our typical contribution to any one family is approximately $1,000 – $1,500 with the majority given for rental assistance. We have also helped families in need with utility bills, car payments and auto repair. Generally, the families we serve are working and living paycheck to paycheck. They have encountered an unexpected bump in the road and would be facing devastating consequences if they did not receive help (e.g., eviction, disconnected utilities or loss of transportation to get back and forth to work).
Those who receive aid from Tom's Door have been carefully screened. We are often the last resort for these individuals when all other available resources have been exhausted.
All of our funds come from direct donations, from local organizations, or from the sale of our seasonal note cards. We are a 100% volunteer organization enabling us to keep our administrative costs below 5% per year. Learn more about helping Tom's Door by clicking here.
Tom's Door works with Partners in our service area to provide assistance to families in need. Click here to learn more about our Partners.
Our Dedicated Board of Directors
Executive Director: Rosie McSwain
Treasurer: Peggy Sontag
Sales: Christi Small
Secretary: Marleen Hammons
Inventory: Carol Lightstone
Special Projects: Cathy Cooney
Advisor: Anne-Marie Kelley
Other Key Volunteers:
Web: Valerie Miller
Card Production: Bernadette Ossola and Barbara Hoover
Photo Editor: Mike Garbarini